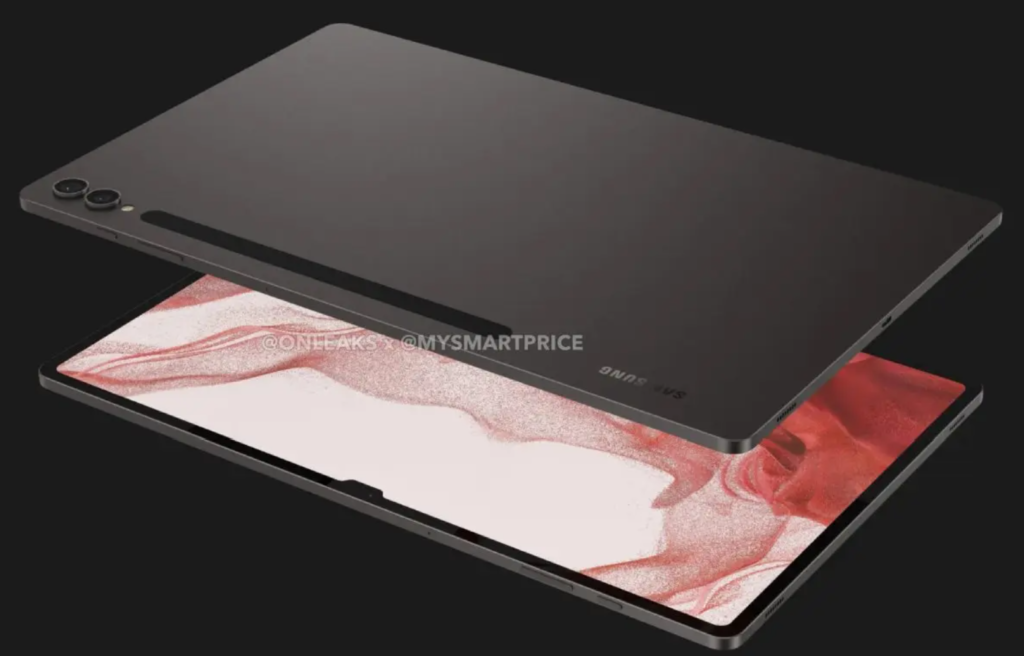 Samsung Galaxy Tab S9 Ultra with its high-end hardware specifications is likely to become the best Android tablet of 2023.
Samsung continues to be the top Android tablet manufacturer in terms of market share, and the Galaxy Tab S8 Ultra is currently the company's top tablet. Recently, reports and rumors about the Galaxy Tab S9 Ultra have been published and now new renders of this product are also available.
Veteran tech leaker OnLeaks has shared clear renders of the Galaxy Tab S9 Ultra in collaboration with MySmartPrice. According to these images, it seems that the next generation of Samsung's flagship tablet will not be much different from the Galaxy Tab S8 Ultra.
It is expected that the Galaxy Tab S9 Ultra will benefit from a unified design like the current generation of this product. According to the leaked renders of this product, a black strip is embedded in its back frame, which will be the location of the S-Pen pen. In addition, the main cameras of the device are placed in separate cuts.
The notch above the Galaxy Tab S9 Ultra display will be the same as the Tab S8 Ultra. This area hosts two front cameras of the device, one of which uses a standard sensor and the other uses an ultrawide sensor.
Other features of Samsung's next high-end tablet include a USB C port and stereo speakers. The right edge of the device will host the power and volume buttons. The dimensions of this product will be 326.4 x 208.6 mm, which is not much different from the Galaxy Tab S8 Ultra.
According to Androidauthority, the Galaxy Tab S9 Ultra will probably be equipped with a Snapdragon 8 Gen 2 For Galaxy chip and will use a 10,880 mAh battery. This tablet is expected to come with a 14.6-inch OLED display with a resolution of 2960 x 1848.